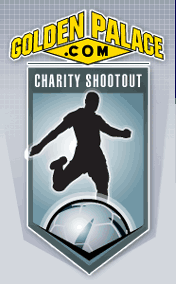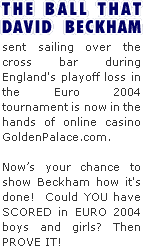 The Ball is now on a World Tour raising money for charity. And it will soon be starring in penalty shootout style competitions at a football club near you!



From competition entrants, three contestants, randomly selected from entries, will win a day of VIP treatment at the FC, the opportunity to meet star players, receive signed goodies, AND THEN have the opportunity to use The Ball to kick for £100,000 during a live halftime event before thousands of spectators!!! Click here for more information.






Scotland's Rangers to host next Tour Stop!
Rangers Star Player Stevie Thompson joined in the official launch at Rangers Training Ground on Friday 04 March, surrounded by a mass of media attention. » See Photos...

CharityShootout.com at Wolverhampton
Rock Legends Robert Plant, founding member of Led Zeppelin, and ex-Deep Purple bassist Glenn Hughes, at Wolves on the GoldenPalace.com sponsored Charity Shootout event day. » See Photos...

CharityShootout.com at Crystal Palace
Three lucky winners enjoyed a fabulous dream day as guests of Crystal Palace FC and CharityShootout.com on December 5, 2004 where they met the team, received signed jerseys and tested their skill for £100,000. » See Photos...

CharityShootout.com at Aston Villa
The first UK stop for CharityShootout.com at Aston Villa was a resounding success. Despite Aston Villa's loss to Liverpool, our guests were thrilled with their first class hospitality packages and the chance to kick on Premiership turf. » See Photos...

Golden Palace Ball Scores For Charity
GoldenPalace.com has launched the first phase of The Ball"s tour around the globe, helping to raise approximately $160,000 for charity at a Polish football match. » Read More...

GoldenPalace.com has 'The Ball'!
The infamous ball from the missed shootout kick at Euro 2004 Quarter-Final match vs. Portugal is now in the hands of GoldenPalace.com. » Read More...